Treatment and Services
Cox & Miranda DDS have provided personalized dental care to thousands of families. Our patients come from near and far to experience the individualized care we provide. We utilize the most modern equipment and methods available when providing treatment to our patients.
Click the Treatment & Technologies below for more information on each subject.
Imaging Technologies

• Digital Imaging
• X-rays and Digital X-rays
• Intraoral Camera
• Telescopic Loupes

Preventative

• Dental Cleanings
• Dental Examinations
• Oral Hygiene & Home Care
• Sealants

Restorative

• Gum Disease
• Fillings
• Crowns and Bridges
• Dentures

Cosmetic

• Bonding
• Veneers
• Whitening

Surgical

• Sedation & Anesthesia
• Implant Restorations
• Root Canal Treatment
• Extractions
• Wisdom Teeth

Orthodontia

• Invisalign
• Braces



Other Services

• TMJ
• Sleep Medicine
• Sinus & ENT Symptoms
• Night Guards
• Athletic Mouth Guards
IMAGING TECHNOLOGIES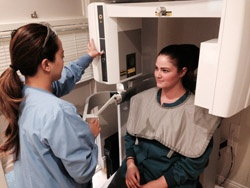 DIGITAL IMAGING
Our office is one of the only in the area to offer 3-D Dental Imaging on site. Our i-CAT Cone Beam CT Scanner produces high definition 2-D and 3-D diagnostic images for the ultimate treatment efficiency, while helping to improve dental issues so our patients can experience a better quality of life.
3-D image scans can be used to help diagnose and treatment-plan implants and restorations, endodontic work, periodontic procedures, oral surgery, TMJ and sinus/airway analyses, and orthodontics. We also utilize our i-CAT scanner to take traditional 2-D panoramic digital images, reducing the need for additional x-rays while in the chair.
The i-CAT scanner offers low dose scan settings that allow our assistants the flexibility to capture a range of image sizes to fit individual patients cases. The process of taking a scan is quick and easy and depending on what images are needed can take from five to 30 seconds. Generally for a scan of both arches, the patient is seated and positioned in such a way to cut the dose of radiation and lower the scan time to 20-30 seconds.
The Tx-Studio software technology allows us to view the image in 30-60 seconds, giving the doctor immediate access to the scan and treatment tools. The doctor can then consult with the patient as they view the patient's scan. Combined with the CAD technology used in our lab, the 3-D scanner is an invaluable high-tech tool our office uses to diagnose, educate, and treat patients.
X-RAYS AND DIGITAL X-RAYS
X-rays are a focused beam of x-ray particles passed through bone which produce an image on special film, showing the structure through which it passed. This provides the familiar black and white images doctors and dentists use to diagnose problems and disease.
Digital radiography allows us to take x-rays using up to 90% less radiation than conventional film x-rays. Schick CDR Digital Intra-oral Radiographs are designed to provide an outstanding image with less discomfort to the patient. There are several types of intra-oral x-rays, each showing different sections of the teeth.
Bite-Wing X-rays: This x-ray shows details of the upper and lower teeth in one area of the mouth. It also shows a tooth from its crown to about the level of the supporting bone. It is used to determine if there is decay in the tooth, if the crown is properly fitted, or to determine marginal integrity of a filling.
Periapical X-rays: This type of x-ray shows the whole tooth, from its crown to beyond the end of the root where the tooth is adhered in the jaw. This x-ray is used to identify any irregularities in the root structure or the surrounding bone.
Occlusal X-rays: This type of x-ray shoes the entire arch of the teeth in either the upper or lower jaw. It is used to show the full tooth development and placement within the mouth.
Panoramic X-rays: This type of x-ray shows the entire mouth area, including all of the upper and lower teeth, their roots, the jaw bone, and sinus cavity. Using this, the dentist can detect the position of each tooth and any emerging teeth. In addition, the dentist can identify any impacted teeth. Panoramic x-rays provide details which allow the dentist to check for cavities, check the health of tooth roots and the bone surrounding the tooth, and can assist in the diagnosis of tumors. These x-rays help the dentist monitor the general health of your teeth and jaw bone.
Using this technology, we are able to take an x-ray of your mouth by using a small sensor which records the image of your teeth and sends it to a computer. The result is a highly detailed image of your teeth and bone that can easily be enhanced to assist in the diagnosis of dental concerns and determine the very best treatment for each case.
INTRAORAL CAMERA
An Intraoral Camera is about the size of a pen, and can be inserted into the mouth to help clearly see the condition of your teeth and gums.
With this advanced technology we can zoom in on small diseased areas, cracks, chips and worn metal fillings with extreme precision. The full-color images taken with the intraoral camera are sent to a computer that when viewed allows us to clearly see and diagnose dental problems much earlier than with traditional dental technology. Because images are displayed on the computer monitors, our patients are also to see the treatment area and are able to gain a better understanding of dental procedures being performed.
TELESCOPIC LOUPES
For some procedures, the dentist will wear a pair of technical glasses called surgical telescopes. These powerful glasses have magnifiers that allow the dentist to see fine details that would go unnoticed to the naked eye.
RESTORATIVE CARE
GUM DISEASE
Daily oral hygiene (proper brushing and flossing) is essential in avoiding gum disease and reducing the risks that gum disease can place on your overall health and well-being. There are three phases of gum disease:
Gingivitis is caused by plaque buildup around the gum line which causes inflammation of the gums. This plaque buildup traps bacteria and causes this initial stage of gum disease. The gums often bleed with brushing or flossing. With diligent and proper care, gingivitis can be reversed.
Periodontitis occurs if gingivitis is left untreated. At this stage, supporting bones and fibers that hold your teeth in place are irreversibly damaged. "Pocket" or deep hollow areas form that can trap food and bacteria. The result is receding gums and gaps that form around the teeth. Treatment is indicated to prevent further disease and risk to the teeth.
Advanced Periodontitis is the final stage and involves destruction of the connective tissues and bones. Bacteria that has spread causes the pockets to become so deep that teeth often shift or loosen, affecting your bite. Immediate treatment by a specialist is needed at this stage.
Our dentists refer patients with the latter stages of gum disease to the following periodontists, dentists who specialize in the prevention, diagnosis, and treatment of periodontal disease and in the placement of dental implants:
Mark Beckstead, DDS
www.midpenperio.com
Sarah S. de Sanz, DDS
www.drdesanz.com
Terry G. Fiori, DDS
www.paloaltoperiodontist.com
Casey M. Herrera, DDS
www.cmhperiodontics.com
FILLINGS
A filling is a way to restore a tooth damaged by decay back to its normal function and shape. If you have a tooth that requires a filling, the dentist will first remove the decayed tooth material, clean the affected area, and then fill the cleaned out cavity with a filling material. A filling also helps prevent further decay by closing off any cracks or spaces where bacteria can enter.
There are a variety of filling materials available including plastic, porcelain, gold and silver. The dentist will work with you to determine which material is best for you, depending on the extent of repair, where in your mouth the filling is needed, and cost. Each of the filling materials is briefly explained below:
Composite (plastic) resins are custom made to the exact color of your natural teeth, creating a more natural appearance. The current generation of composite material is much stronger than its predecessor and therefore more durable. The material is so resilient it can be used to bond a tooth together, preventing a fracture.

Porcelain fillings are called inlays or onlays and are custom-created in a lab and then bonded to the tooth. They can be matched to the color of the tooth, resist staining, and are about the same cost as gold fillings. A porcelain restoration generally covers most of the tooth, making the filling nearly undetectable.
Gold fillings can withstand a tremendous amount of chewing pressure. Since they are so durable, they last at least 10-15 years or longer.
Amalgam fillings are a combination of materials such as silver, mercury, tin, zinc and copper. It had been the standard filling material in most dental offices for more than a century. Although an amalgam filling can cost less, many patients prefer a shade that matches their tooth color, versus the silver color of Amalgam. Some patients also have a concern about the possibility of being exposed of a small percentage of mercury present in amalgam fillings.
CROWNS AND BRIDGES
Crowns and bridges are used to restore and enhance teeth that are damaged, or to take the place of missing teeth. A crown is used to entirely cover a damaged tooth. A crown not only strengthens a tooth, but it can dramatically improve a tooth's appearance, shape and alignment.
Crowns may be used to:
Replace a large filling when there is little tooth structure remaining

Protect a weak tooth from fracturing

Restore a fractured tooth

Attach a bridge

Cover a dental implant

Cover a discolored or poorly shaped tooth

Cover a tooth that has had root canal treatment

Placement of a crown generally requires 3 visits. The first to do a prep & impression to make restoration; the second to place it, and the third to permanently attach it.
A bridge is an ideal solution to fill the space created by missing teeth. A bridge is one or more artificial teeth that are cemented into place using the teeth on either side for support. A bridge replaces the missing teeth, both functionally and aesthetically. Bridge work is as much an art as it is a science. The materials used may be gold alloys, porcelain bonded to metal alloy, or all ceramic material made to match your natural tooth color. The choice of material depends on requirements for strength, wear, and/or esthetics.
DENTURES
A denture is a removable replacement for missing teeth and surrounding tissues. There are two types of dentures available, partial and complete dentures. Partial dentures are used when some natural teeth remain, while complete basic dentures are used to replace all teeth. Dentures are made to resemble your natural teeth so there should be no noticeable change to your appearance. In most cases, dentures can improve your bite and function, and make smiling a more comfortable experience.
Complete Dentures - This restoration method is used to restore your smile and mouth function if all your teeth have been lost. The dentures are custom created to resemble natural teeth and are positioned into a patient's mouth to take the place of the natural teeth. Complete dentures are removable and may require adjustments in order to create a proper fit with the gums and mouth.
Partial Dentures - A removable partial denture is a device used when one or more natural teeth still remain in the upper or lower jaw. A partial denture usually consists of replacement "teeth" attached to a gum-colored plastic base which is held in place in the mouth. A fixed partial denture acts the same as a removable denture, but it is cemented into place using the adjacent teeth for support. The partial denture fills the space created by missing teeth, and creates a support for remaining teeth to prevent shifting.
SURGICAL
ORAL SEDATION & ANESTHESIA
Dental sedation is a technique that can be used when a patient is apprehensive about undergoing dental treatment, or suffers from dental anxiety or phobia. We offer a number of solutions for our patients to make their dental visit as comfortable as possible. Sedation dentistry techniques enable patients who might otherwise avoid the dentist to receive dental treatment necessary for a healthy smile and overall well-being.
Depending on the extent of the anxiety or phobia, varying degrees of dental sedation can be utilized as described below.
Nitrous Oxide Sedation
Nitrous Oxide sedation can be used to make treatment more comfortable. This sedation method involves a gas that is inhaled through a mask that allows you to breathe in the medication and induces a state of relaxation. Local anesthetic will be administered in conjunction with nitrous oxide to eliminate pain.
Oral Sedatives
There are several oral medications used individually or in combination to induce relaxation during dental procedures. These medications can be prescribed to a patient before a dental procedure and are usually to be taken an hour prior to the dental appointment, depending on the severity of the anxiety. Oral sedatives do not provide pain relief, so local anesthetic is generally also administered.
Anesthesia
We have two treatment rooms in our office that are equipped to allow dental treatment while anesthesia is administered by a physician trained and licensed anesthesiology. Our dentists refer patients to our visiting anesthesiologist, Michael Lam, MD, is available for consultation in advance of your dental treatment. We are happy to coordinate scheduling your treatment in our office with Dr. Lam when general anesthesia is requested or required. While we assist in coordination of his services, Dr. Lam is a visiting medical specialist whose services are treatment-planned and billed separately.
IMPLANT RESTORATION
A dental implant is an ideal tooth restoration for people who are missing one or more teeth. A dental implant is a metal post that is surgically positioned into the jaw. Once in place, and the implant has had time to heal, a replacement tooth is attached to the post. Implants often provide superior benefits to other methods of tooth replacement. They are stronger than natural teeth and generally last indefinitely. Implants maybe the preferred method of restoration, since they do not depend on neighboring teeth for support.
We presently place implants manufactured by Nobel Biocare, Straumann, and MegaGen. We have successfully restored implants from other manufacturers. To receive implants, a patient needs to have healthy gums and adequate bone to support the implant, as well as being committed to excellent oral hygiene and regular dental visits, as these are critical to the long-term success of dental implants.
ROOT CANAL TREATMENT
Root canal treatment generally involves the removal and replacement of a tooth's pulp. The pulp is soft tissue containing blood vessels, nerves, and connective tissue. The pulp is found in a canal that runs through the center of the hard tissue on the inside of the tooth (the dentin). It extends from the pulp chamber in the crown down through the root canal to the tip of the root in the jawbone. Each tooth has only one pulp chamber but may have more than one root and several root canals.
If pulp becomes damaged through injury or disease and cannot repair itself, bacteria and their products can leak into the pulp and cause the pulp to die. If a root canal procedure is not performed, an abscess can form at the tip of the root and cause considerable pain. Even if there is no pain, the bone anchoring the tooth in the jaw can be damaged. Without treatment, the tooth may have to be extracted. Our dentists may refer patients to a root canal specialist, called an endodontist, depending on the urgency and/or complexity of the case. Cox & Miranda DDS refers patients to specialist with endodontic offices in the area whose website link is below. These offices generally require a referral from our office that can be made after our dentist performs and oral examination and reviews the patient's x-rays.
EXTRACTIONS
Good oral hygiene should always be practiced since the loss of a single tooth can have a major impact on your oral health and appearance. Although our dentists use every measure to prevent tooth loss, certain situations arise that require a tooth to be extracted. A tooth may need to be extracted if the following occurs:
Severe decay

Advanced periodontal disease

Infection or abscess

Orthodontic correction

Malpositioned teeth

Fractured teeth or roots

Impacted teeth

After careful examination and treatment, the dentist may advise you to have a tooth extracted. Before a tooth is removed, the dentist will take an x-ray in order to understand the shape and position of the tooth and surrounding bone. Based on the degree of difficulty and complexity, the dentist will numb the area in your mouth with a local anesthesia and/or combine it with oral or conscious sedation so you are comfortable during the procedure; or he may refer you to an oral surgery specialist.
A certain amount of pain and discomfort is to be expected following an extraction, which can be minimized with pain medication and ice packs applied to the face for 15 minutes at a time. After a routine extraction, discomfort should lessen within three days to two weeks. If you have prolonged or severe pain, swelling, bleeding or fever, call our office immediately at (650) 326-7257.\

WISDOM TOOTH EXTRACTIONS
Wisdom teeth are the last molars, also called "third molars" that develop on each side of the jaw. Wisdom teeth usually emerge in the back of the mouth between the ages of 16-20.
Wisdom teeth are a valuable asset to the mouth when they are healthy and properly positioned. Often, however, problems develop that require their removal. When the jaw is not large enough to accommodate wisdom teeth, they can become impacted (unable to come in or misaligned). Wisdom teeth may grow sideways, emerge only part way through the gum, or remain trapped beneath the gum and bone. Removal of the offending impacted teeth usually resolves these problems. Early removal is recommended to avoid future problems and to decrease the surgical risk involved with the procedure.
A wisdom tooth extraction is a relatively routine procedure. The dentist will numb the area in your mouth with local anesthesia and/or combine it with oral or conscious sedation so you are comfortable during the procedure. If the dentist finds the extraction may be complex and/or believes that the patient may benefit from seeing a specialist, he will refer the patient to an oral surgeon for treatment. Our dentists refer to colleagues with oral & maxillofacial surgery offices in the area whose website links are below. These offices generally require a referral from our office that can be made after our dentist performs and oral examination and reviews the patient's x-rays. Patients needing a wisdom tooth evaluation can contact us to schedule an exam today.
After the tooth (or teeth) is removed, you may be asked to bite down softly on a pack of gauze after you leave the office, to limit any bleeding that may occur. Some pain and swelling may occur but it will normally go away after a few days; however, you should call your dentist if you have prolonged or severe pain, swelling, bleeding or fever.
OTHER TREATMENTS & SERVICES
TMJ TREATMENT
TMJ stands for temporal-mandibular joint or jaw joint. Problems in this joint may be caused by arthritis, trauma, a misalignment of the teeth or excess muscle tension.
Problems in this area can cause:

Headaches

Earaches

Trouble/soreness in opening and closing the mouth

Clicking or popping of the jaw

Pain in the jaw muscles

Soreness in the area, sometimes extending to the face, neck and back

Dental treatments for the condition can include replacing missing teeth, moving teeth, adjusting the bite, filling gaps between teeth. There is no one solution that is right for all cases. Sometimes a plastic mouthpiece is used to prevent clenching or grinding that is contributing to the problem. Medications may be helpful in reducing inflammation and pain in the joints. Physical Therapy and medications may also be helpful in reducing muscle pain and dysfunctions. Infrequently surgery may be needed to repair a badly damaged joint.
DENTAL SLEEP MEDICINE
Dental Sleep Medicine is an area of practice that focuses on the management of sleep-related breathing disorders including snoring and obstructive sleep apnea through the use of oral appliance therapy. Patients experiencing problems with sleep or breathing that our doctors diagnose as treatable with dental-related sleep devices can be treated with Oral Appliance Therapy (OAT). OAT is an effective treatment option for patients with mild to moderate obstructive sleep apnea (OSA). Oral appliance therapy involves the selection, fitting, and use of a specially designed oral appliance or plastic device that fits in the mouth like a sports mouth guard or orthodontic retainer. Oral appliances help prevent the collapse of the tongue and soft tissues in the back of the throat, keeping the airway open during sleep and promoting adequate air intake. Oral appliances may be used alone or in combination with other treatments for sleep-related breathing disorders, such as weight management, surgery or CPAP.
Our doctors are familiar with the various designs of appliances and can help determine which is best suited for your specific needs.
For further evaluation and treatment of obstructive breathing sleep disorders, our doctors refer patients to the
California Sleep Institute and the
Stanford Center for Sleep Sciences and Medicine

Stephen A. Schendel, MD, DDS

Jerome Hester, MD
SINUS & OTOLARYNGOLOGIST (ENT) SYMPTOMS
Since the roots of the upper posterior teeth are in close proximity to the maxillary sinus, they pose a potential for causing sinusitis. Symptoms of sinusitis can include facial pressure, pain in the upper teeth, and sometimes bad breath. Possible dental causes for sinus symptoms include infections present under a crown; a defect on tooth roots providing bacterial entry; or decay in a tooth. Each of these problems has the potential of providing the source of chronic sinus infections.
A panoramic dental x-ray or CT scan can reveal dental restorative procedures or infections present under crowns without overt clinical symptoms of swelling, toothache or localized pain. Many times, physicians will make a recommendation to patients with chronic sinusitis to have a dental evaluation to rule out possible dental related infections.
Otolaryngologists are physicians trained in the medical and surgical management and treatment of patients with diseases and disorders of the ear, nose, throat (ENT), and related structures of the head and neck.
Our doctors refer patients to:

Winston C. Vaughan, MD

Edward J. Damrose, MD

Brad Hinrichs, MD
NIGHT GUARDS
Night Guards are a custom designed mouth guard that is made of a hard or flexible plastic which is molded to fit the shape of your teeth. They are designed to protect or maintain your teeth or bite.
Some of the reasons for wearing a night guard are:
When a patient is clenching or grinding their teeth as a way to protect their teeth or bite from "bruxism".
Having an abnormal bite, where your teeth do not align together.
If you decide a night guard is right for you, the dentist will take an impression of your teeth and prepare a custom fit guard for you. On average guards last between one to five years.
For more information please visit:

Mouth guard/Retainer care instructions PDF
ATHLETIC MOUTHGUARDS
Mouthguards are recommended to protect the jaw and teeth during physical activity and sports, such as boxing, football, basketball, or other activities where your mouth might be injured. In additional, these guards protect the soft tissues of your tongue, lips and check lining.
The National Youth Sports Foundation for Safety states "that an athlete is 60 times more likely to sustain damage to the teeth when not wearing a protective mouthguard. Often times these injuries will result in permanent damage to oral structures which require medical intervention."
If there is an injury, it is important to remember time is critical when handling a dental injury. For the best outcome it is best to treat the dental injury within the first two hours.
PREVENTATIVE CARE
DENTAL EXAMINATIONS
Periodic dental exams are one means that dentists use to prevent and diagnose dental issues, such as caries, more commonly known as cavities, among others. The dentist's physical and visual examination is often supplemented by x-rays to aid in detection of potential dental problems. Thus, having your dental exam regularly allows us to treat you promptly before further decay or complications occur.
Our practice strongly recommends that patients undergo a periodic dental exam once a year, and that new x-rays be taken at least every 18 to 24 months in keeping with the Academy of General Dentistry guidelines. Most times, our scheduling coordinators can find time for your periodic exam after your regular teeth cleaning, allowing you to combine the appointments into one visit.
DENTAL CLEANINGS
A dental cleaning, also known as a prophylaxis, is generally done every six months to remove plaque build-up. During the cleanings, the dental hygienist may use an ultrasonic scaler along with hand instruments to remove the plaque build-up under the gum. If the plaque is not removed on a regular basis it may eventually lead to periodontal disease and/or decay.
Periodontal disease occurs when bacteria and plaque build-up under the gum tissue leading to inflammation and infection of the tissue. A periodontal probing, which measures the health of the tissue by viewing the depth of the pocket (located between the gum and tooth) is performed during your cleaning to determine if disease is present. Periodontal disease is treated with additional appointments and cleaning further down the tooth, along the root, and is often referred to as a "deep cleaning" or periodontal therapy. These cleanings may be recommended on a more frequent basis.
ORAL HYGIENE & HOME CARE
Good oral health is important to your well-being, and is a key factor in maintaining good overall heath. Maintaining good oral hygiene is one of the most important things you can do for your teeth and gums. Healthy teeth not only enable you to look and feel good, they make it possible to eat and speak properly.
Daily preventive care, including proper brushing and flossing, will help prevent dental problems before they develop.
In between regular visits to the dentist, there are simple steps that patients can take to greatly decrease the risk of developing tooth decay, gum disease and other dental problems. These include:
Brush thoroughly at least twice a day and floss daily

Eat a balanced diet and limit sugary snacks and drinks between meals

Use dental products that contain fluoride daily, especially toothpaste and flouride mouth rinse.
SEALANTS
Sealants are a composite resin material that can flow into small crevices in your tooth's enamel to provide protection against tooth decay. Sealants are used to fill in narrow grooves in a tooth that cannot be adequately cleaned by brushing. In some cases, the tooth structure has fine grooves or pits that accumulate plaque, because they're too narrow to allow even one bristle into them. These can develop cavities over time. After the tooth is cleaned and prepared, a coating that seals the grooves and pits is applied, making it possible to brush off all the plaque and keep your teeth healthy.
COSMETIC
BONDING
Bonding involves adhering composite resin material that is matched to the color of the tooth to the front of the tooth. Bonding is done to repair damage done to the tooth by decay, to alter the alignment of the tooth, to close gaps between teeth, or for other cosmetic purposes. First, the surface of the tooth is lightly abraded in order to accept the bonding and hold it. Next, a gel is applied to micro-etch the tooth surface, and a primer/bond agent is applied so the material adheres to the surface. Then, the material itself is placed on the tooth and hardened with intense light. Finally, the composite resin material is shaped and polished to a lustrous finish.
VENEERS
Veneers are a dental procedure in which a covering is placed over the front of the tooth. Veneers are usually done only to the part of the tooth that is visible when talking or smiling. The procedure can be direct or indirect.
The direct technique involves placing composite resin on the outside of the tooth using bonding, thus this method is usually referred to as "Bonding" (see above).
The indirect technique usually involves more than one appointment because the coverings, called ,Veneers, will be fabricated at our dental laboratory. At the first appointment, the teeth are prepared, impressions are taken, and the teeth are given a temporary covering. In two to three weeks when the veneers are ready at the lab, the temporaries are removed and the veneers are bonded to the teeth. Our laboratory-fabricated veneers are made using porcelain or pressed ceramic so they are esthetically pleasing.
The advantage of placing veneers versus crowns is that much less tooth material needs to be removed and the procedure is generally less uncomfortable than a crown prep. Veneers are recommended for teeth that have large fillings or little tooth structure.
WHITENING
Tooth whitening is a popular procedure to make the more attractive by whitening and brightening them. Bleaching can be used to whiten stained and discolored teeth, or simply to enhance a dull smile. Tooth whitening is a safe and relatively painless procedure that is ideal for most patients. Our office offers two methods of whitening: an in-office method called ZOOM! and at-home tray whitening.
ZOOM! is an ideal procedure for anyone wanting immediate results. The entire procedure takes place in our office and patients should allow about two hours for a full treatment. In this process, a protective gel is applied to the gums to protect the soft tissue. A special light-activated gel is then applied to the teeth and a special light is used to enhance the action of the agent. The procedure is non-invasive and done in iterations of approximately 20 minutes so it is generally pain-free, although some patients may experience sensitivity during treatment, or within the first 24 hours after treatment.
As part of the ZOOM! whitening treatment, we can take impressions of your teeth to create custom trays for at-home touch-ups and maintenance. We will give your instructions for keeping your smile bright. The result is dramatically whiter teeth! Tray whitening is a whitening treatment used in the comfort of your home to gradually whiten teeth. We first take impressions of your teeth to create customized clear trays that are worn to whiten the teeth. Once the trays have been fabricated and are ready to be picked up, we will show you how to apply the special clinical-strength bleaching material to the trays. The trays should be worn for 30-60 minutes up to twice a day for noticeable results. The trays and gel can be used at your convenience to maintain your new smile. For your convenience, our office offers the bleaching gel to our patients for purchase in two strengths, 22% and 32%.
Please click on the links below for more information about teeth whitening:

Statement of Instructions and Consent for Zoom Bleaching PDF

Tray Whitening Instructions PDF

Phillips Zoom!
ORTHODONTICS
INVISALIGN
The Invisalign treatment consists of a series of clear, snap-on, custom fit, removable mouth trays that apply a controlled amount of force to your teeth, forcing them to shift. The system provides the same beautiful results as traditional braces, but since the trays are made of clear plastic, they are virtually invisible. In addition, because Invisalign trays are removable, they can be taken out while eating, drinking, brushing and flossing.
The Invisalign System work begins by first creating a series of trays that will move each of your teeth gradually until the end result is achieved. At the end of each two-week period, you will switch trays. Throughout the process, you will visit your dentist every two – six weeks to ensure treatment is progressing as planned.
It is important to remember that once your treatment is complete some form of retention is require for life in order to maintain the corrected tooth positions. You will likely wear a clear retainer to ensure your new smile stays in place. Invisalign offers a special retainer program call Vivera, which is very convenient and economical.
As with all orthodontic appliances, the cost of Invisalign varies according to the complexity of the case. Insurance policies generally cover Invisalign to the same extent that they cover traditional braces.
Click on the links below for more information about Invisalign, Vivera retainers, and orthodontic tray care:
BRACES
Orthodontics is the art of using appliances to straighten and align teeth. Most commonly it involves the use of braces to move teeth into their best alignment. In this method, brackets are bonded to the teeth and arch wires are threaded through the brackets. The arch wires act as a track, and guide each tooth to its proper position. There are several types of orthodontic braces available to consumers, including the more traditional metal braces, ceramic "tooth colored" braces, as well as clear plastic braces.
For further assistance, please refer to: